What is Bukalapak's secret sauce for the success of warung-tech? Discover through the experiences of its users
Warungs are an integral part of the Indonesian economy yet they had largely remained underserved and underestimated until about five years ago when Mitra Bukalapak recognised the need to equip them with the right technologies which would subsequently open doors for many other businesses and investors to notice them and unlock their potential.
As a mobile tech business, Mitra identified the challenges posed by the pandemic as opportunities to capitalize on the deep penetration of smartphones across Indonesia. Shoppers and warungs alike found utility in their app as it bridged the digital divide seamlessly.
Long-established mom and pop stores in Indonesia received a new lease of life in 2017 when Mitra Bukalapak committed to creating an impact on the community by empowering them with similar digital capabilities that were available to larger commercial stores. Their objective was to provide technology and financial solutions to offline merchants including warungs, traditional kiosks and individual agents who have long been underserved and reliant on old-school processes, manual methods of procurement, stock management, and accounting.
The online-to-offline (O2O) wing of e-commerce firm Bukalapak, Mitra Bukalapak has experienced enormous growth since its inception. Its users have increased from 3.4 million in 2019 to 15.2 million in 2022  which is testimony to the lucrative features that the platform is designing and facilitating for its Mitras' or partners.
Mitra Bukalapak has also become the main driver of Bukalapak's growth with its contribution of 53% to the company's revenues in Q3 of 2022 which further sheds light on the profitable opportunities within the neglected warung community.
Based on Nielsen's survey in 2022, Mitra Bukalapak currently commands the leading market-share in Indonesia's online-to-offline (O2O) platform with 56% of warungs who compete for O2O business using the Mitra Bukalapak app. This Nielsen's figure has proven Mitra Bukalapak's position as the largest O2O player in Indonesia among competitors for two years in a row, which is also comparable to the size of the next three largest competitors combined. It is evident that Mitra Bukalapak offers the widest and most complete offerings to their partners to help them earn more money. 
"We designed products and solutions that resonated with our users' pain points and it became the key to our growth. By simplifying their business processes, the benefits are beyond just providing a competitive pricing for the warungs, but innovating them with new verticals so they can compete with modern retailers. These efforts have worked well, with the majority of mitras getting at least 3x increases since implementing the platform," said Howard Gani, CEO of Mitra Bukalapak.
Why Mitra Bukalapak's approach has proved successful
From giving warungs a new lease of life to enabling them to earn more profits and do more with their time, Mitra Bukalapak's focus on hand-holding the warungs has helped them build a familial connection with them.
The reason behind the success of MBL is not only its commitment to empower the warung community, but also its great features that effectively utilize Buka's specialized platforms to enhance the Mitras' business capabilities and trigger digital transformation among the community members.
Most of the rural folks are unbanked and don't have access to a credit card which poses a major roadblock in commerce in remote areas of the country. Given these factors, Mitra's features such as money transfer and prepaid electricity bills have proved to be specifically beneficial to the warungs. 
In 2018, Saimi from Central Java lost her small store in a fire wiping out 9 years of hard work. Joining Mitra Bukalapak helped her get back on her feet. She not only built her business through the platform but also saw a surge in revenues. "With Mitra Bukalapak, I am able to offer more products and new virtual services such as phone credit, bill payments and remittance services. I have experienced 12x more revenue per month and 3x more customers", Saimi gushes. 
The impact that Mitra Bukalapak seeks to create on the community is genuine in nature as it aims to be beneficial to warungs and other MSMEs' in the long-term. As a promotional effort, Mitra Bukalapak has not merely enticed partners with a one-time offering such as a large discount or other short-term incentives. Instead, their offerings include features to empower them with a set of capabilities which will ensure their long-term growth economically and on the personal front.
Through these efforts Mitra Bukalapak has helped warungs transform into being more than just ordinary retailers. Equipped with several new verticals of trade, the mitras and their warungs are now serving as logistics and financial agents with over 42 SKUs of virtual products from Mitra Bukalapak's platforms. Mitras can now be successful agents of change in their community by helping people in their neighborhood who are looking to send money or transact digitally. All nearby warungs are now equipped to provide everything they need.
Haryani from Central Java shared how the transformation of her warung into a modern retailer has given her more benefits. "Money Transfer has been my mainstay product since joining Mitra Bukalapak in 2018. I got a lot of benefits because there are numerous factory workers who live and work around here, who need to send their weekly income to their families outside the city. As there is no easy access to the minimarket and the bank is quite far from here they choose to transact in my stall. This in turn helped me earn a substantial income from my warung and I now own a house," said Haryani.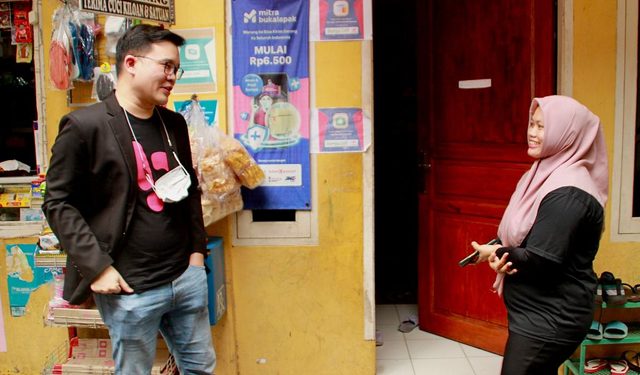 A socially responsible business 
Mitra Bukalapak is not only empowering the warung community by providing a platform for businesses, but it has also consistently initiated several inspiring programs to educate and enrich warung owners with digital capabilities and entrepreneurial skills. 
One of the biggest  beneficiaries of the Mitra Bukalapak approach are the Juwara community – the largest Warung community in Indonesia that is managed by Mitra Bukalapak to connect warung owners throughout the country. They are regularly given the opportunity to participate in training and discussion sessions to help them become more tech-savvy, understand finance better and steer their businesses towards more profitable pastures.
The Juwara community seamlessly connects warung owners with one another. This community form has grown to be a platform for a candid discussion on the app, sharing tricks of trade and special tips. It also allows for feedback and discussions to address problems. There is a filtering process that ensures the team at Mitra Bukalapak can identify issues that need active intervention.
With an upward growth in the number of community members from time to time, there are currently 120,000 stall owners who are members of the Juwara Community.
Udin, from the Yogyakarta region, formerly worked as a teacher until he opened his stall and joined Mitra Bukalapak in 2017. At his stall Udin sells daily necessities and credit top-up services to her customers. When he joined Mitra Bukalapak, he felt the ease of selling credit through the Mitra Bukalapak application. The risk of loss that he was often forced to bear when selling credit manually has been significantly minimized. 
Mitra Bukalapak's presence in his stall is not only beneficial to him but also to the surrounding community. A number of people who have limited knowledge and access to banking facilities choose to take advantage of remittance services, virtual payments, cash withdrawals and so on at Udin's stall, making him a financial inclusion agent in their environment. 
As a member of the Juwara community,  Udin has also benefited from the training and coaching sessions. Not only is he able to share his experiences to inspire the community, but he also finds a priceless support system and family in the community that empowers each other.